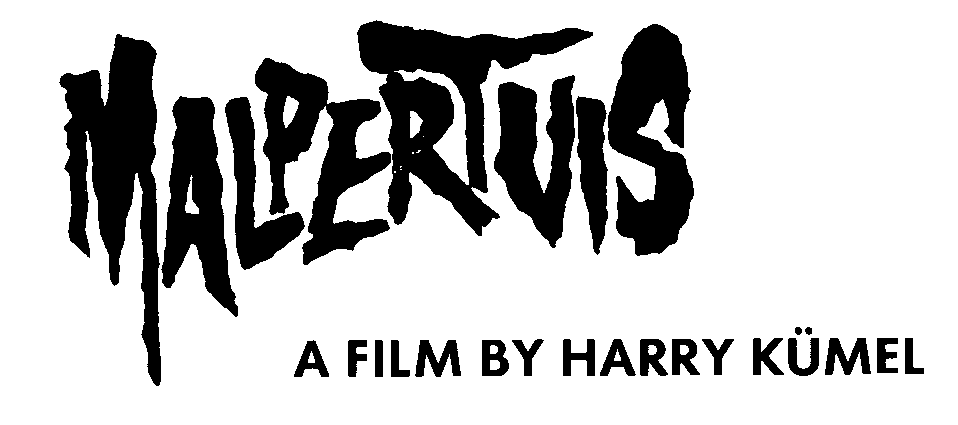 LE SUJET
Un port brumeux... une vieille demeure maléfique au coeur d'un quartier oublié... Nous voilà à Malpertuis... Nous y arrivons avec Yann un jeune marin, qui a été amené de force et inconscient, après une bagarre, sans doute provoquée dans un bar d'escale. Yann est le neveu du vieux Cassave, le maître mourant de Malpertuis, qui collectionne des animaux empaillés et séquestre des humains, réincarnation des dieux antiques. Cassave veut tous les siens autour de lui, pour entendre ses dernières volontés. Personne ne devra plus quitter Malpertuis, sous peine de perdre tout droit à un héritage fabuleux. Une vie brumeuse, étouffante. Yann, angélique jeune homme blond, tout d'abord se refuse à Malpertuis, à ses mystères, à ses règles obscures. Il veut fuir. Il s'efforce d'en délivrer sa soeur Nancy, qu'il croyait perdue, mais qui s'attache à Malpertuis parce qu'elle aime Krook, un musicien. Bientôt cependant Yann se trouve pris au piege , séduit par cette trinité de personnages qui pour lui parfois, n'en font qu'un et cependant sont toujours terriblement différents: Nancy en robe bleue; Euryale en robe grise, diabolique Gorgone aux yeux verts; Alice, vieille fille vêtue de noir, dont le masque renfrogné cache un tempérament ardent et sensuel. L'histoire de Yann devient celle de tout homme en quête de la «connaissance ». Pour lui, savoir c'est comprendre Malpertuis. Que fait-il là? Y a-t-il sens à tant d'étrangetés? Recherche difficile et douloureuse, Yann est seul. Il aime Euryale d'un amour fou que, pour des raisons bien à elle, et quels que soient les mouvements de son coeur, elle ne veut pas partager. Nancy de son côté n'attend que le moment de s'évader avec Krook, à qui elle donne tout son corps et tout son temps. Seule Alice, la moins âgée des soeurs Cormelon, manifeste envers Yann un intérêt plein de promesses. Au long des interminables couloirs de Malpertuis, de ses chambres gigognes, de ses alcôves secrètes, de ses jardins merveilleux et tragiques, au miroir d'eau morte de son étang, de ses escaliers vertigineux, Yann découvre les raisons d'être des gens de l'étrange domaine, leur raison d'agir, leur fatalité. Bets, une petite chanteuse qui s'est éprise de Yann l'arrache un moment à cet univers d'angoisse. Mois Yann veut revoir Euryale, même si elle est la créature d'un rêve. Parviendra-t-il à retrouver le chemin de Malpertuis? Il devra déjouer les pièges et les haines avant de rencontrer le regard d'Euryale, un regard qui pétrifie les humains. Yann a-t-il rêvé? Qui a rêvé? Dans une clinique moderne, un jeune homme prend congé de l'aliéniste qui vient de le guérir. Une jeune femme, Jane, vient chercher son mari. Mais pour quitter la clinique, il faut suivre de longs couloirs, franchir des portes... La dernière ouvre sur Malpertuis où Yann désespérément, cherche Euryale...

THE STORY
A misty harbor... an evil old mansion lost in the middle of an abandoned area... that is Malpertuis... We arrive there with Yann, a young sailor who has been taken there by force in a state of unconsciousness after a brawl that probably broke out in one of the navy bars.
Yann is the nephew of the aged, dying Cassave, the owner of Malpertuis who collects stuffed animals and who locks up human beings as reincarnations of the gods of yore. Cassave wants all the people close to him to be present to hear his last wishes. No one will be allowed to leave Malpertuis, under penalty of losing his share of a fabulous inheritance. life is stifling there, all in shadow and mist. Yann, a young blond with the face of an angel, rejects Malpertuis at first, with its mysteries and inscrutable rules. He wants to escape. His sister Nancy, whom he had thought was lost, turns up and he tries to get her out of there, but she is attached to Malpertuis because she loves a musician named Krook. Yann soon finds himself caught in a trap, fascinated by a trinity of women whom he sometimes sees as one person and yet who are terribly different from one another: Nancy in her blue dress; Euryale in her gray dress, a diabolical Gorgon with green eyes; and Alice, an old maid in black whose sullen frown conceals an ardent, sensuous nature.
Yann's adventure ends up being that of every man in search of knowledge. For him, knowledge amounts to understanding Malpertuis. What is he doing there? Is there some meaning behind so many strange circumstances? Yann, in his difficult, painful quest for this meaning, finds himself all alone. He is madly in love with Euryale but, for reasons all her own and despite the impulses of her heart, she can not share his love. As for Nancy, her only desire is for a chance to run away with Krook to whom she devotes her person and all her time. Alice, the youngest of the Cormelon sisters, is the only one to show a promising interest in Yann. In the endless corridors of Malpertuis, its series of rooms, its secret alcoves, its wonderful gardens with their air of tragedy, the mirror of its lifeless pond and its dizzy staircases, Yann discovers why the people of this strange abode live there, what makes them act as they do and what the fate is that rules them.
Bets, a little singer in love with Yann, tears him away from this disturbing atmosphere for a while. But Yann wants to see Euryale again, even if she is just a creature in a dream. Can he find his way back to Malpertuis? He has to get around traps and a barrier of hatred before seeing Euryale's eyes again, eyes that petrify human beings.
Was this a dream of Yann's? Whose dream was it? In a modern clinic, a young man says goodbye to the psychiatrist who has just cured him. A young woman named Jane comes to get her husband.
But in order to get out of the clinic, he must go through a number of long corridors and doors... the last of which opens on Malpertuis where Yann is desperatly looking for Euryale...